A year of volunteer-led rehabilitation on Georgia's Tsiskarauli Tower
We are one year into our ALIPH funded partnership project with the National Trust of Georgia, REMPART and the National Trust England Wales and Northern Ireland, pioneering volunteer-led conservation in Georgia's Caucasus Mountains.
Over two years we will rehabilitate the Tsiskaurali Tower. Struck by a missile during the Chechen war, the tower's urgent stabilisation will be led by a series of working holidays with international volunteers.
Despite operating during a pandemic, we were able to run our pilot working holiday last August and begin ambitious restoration plans for the tower.
Rehabilitating the Tsiskarauli Tower
Over 12 days, capital works were started by an international team of 12 volunteers participating in this pioneering Georgian heritage working holiday.
Supported by stonemasonry expertise from REMPART, as well as our team of conservation professionals at the National Trust of Georgia, volunteers internally stabilised the tower with timber framing to allow safe work on its interior. The perimeter and interior of the site have been cleared of earth and stones, clearing the way for further structural interventions this summer.
The first section of a new hiking trail to encourage eco-tourism in the area has also been created, with volunteers clearing 250 metres approaching the upper level of Mount Sairme.
Four more international volunteer groups will visit the site this summer to finish stabilisation works and transform the tower from disrepair, to a vibrant cultural hub that tell the story of this region's layered history.
Sharing culture through memory-making
The National Trust model of individual members, and extensive volunteer opportunities, is based in community. As well as completing urgent stabilisation works, these working holidays have intrinsic social value.
The working holiday approach facilitates cross-cultural collaboration whilst creating lasting connections to heritage from direct experience. Working on a site marked by conflict, this project begins to attach a new layer of history to this monument – one defined by international collaboration.
Largely students from France and Georgia, the response from our first volunteers has been a successful exercise in engaging young audiences with cultural heritage, and particularly its social role in conflict narratives.
As well as masterclasses in traditional stone masonry and restoration skills, volunteers also experienced Georgia's rich cultural heritage first-hand. Alongside conservation workshops, we ran workshops in traditional food preparation, as well as opportunities to explore the expansive natural heritage of the region.
National Trust of Georgia is now running a programme of community events throughout the year at their newly restored headquarters to keep their growing volunteer community alive. Head to their Facebook for the latest updates about their work.
"This project is not a simple workshop, it is a whole experience, disrupting both professional and personal habits. In addition, the breath-taking landscapes, the turbulent history of the tower, as well as powerful encounters, implies a strong emotional involvement: this project is unlike any other! There, our action takes on its full meaning as it goes beyond history, to be deeply rooted in the future of the region."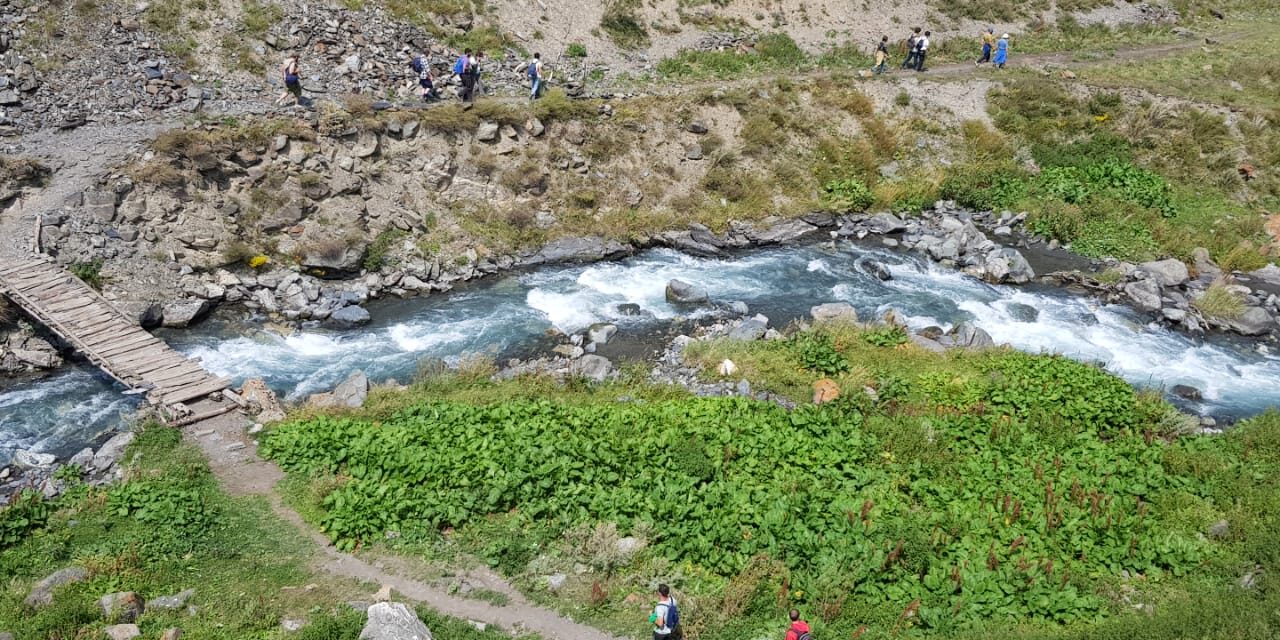 Explore international working holidays
Registration for this year's programme is now live on REMPART's website. Please note that given the sensitive geo-political context of this region and the ongoing pandemic, applicants are advised that this programme remains adaptive to the changing environment.
Learn more