Impact of COVID-19 on heritage sites of the world's National Trusts
A guest blog by David J. Brown, Principal at Bearden Brown LLC
Monuments in nature are not always what they seem. Antonio Gaudi, working in Barcelona in the early twentieth century, took huge inspiration from the natural environment.  Moreover, his organic architectural style is echoed in his approach to project management. Gaudi was not one to be constrained by accepted norms or rules imposed from above.  Construction of his modernist masterpiece, Casa Milà (known popularly as La Pedrera or 'the stone quarry', a reference to its unconventional rough-hewn appearance), was fraught with financial and legal problems.
A monument in nature
Gaudi kept changing his plans as work advanced.  He went well over the expected budget and did not abide by the City Council's building codes.  The built volume was illegal; the attic and the rooftop exceeded the permitted maximums; and one of the pillars of the façade encroached into the famous avenue, Passeig de Gràcia.  However, after disputes between architect, owners and the city came to a head, district authorities certified that the fanciful building was a 'monument in nature' and did not need to conform strictly to the municipal bylaws.
Now a World Heritage Site, La Pedrera, is just one example of the special places cared for by the global family of National Trusts.  These non-governmental heritage organisations have more than a century of expertise in the preservation and conservation of the world's treasures.  And over that time have shared nature, beauty and history with local communities and visiting tourists. By focusing equally on outcomes that deliver for the environment and people as well as being economically viable, they have been at the forefront of sustainable tourism efforts.
That work continues, yet COVID-19 has changed the dynamic of heritage tourism in significant ways in 2020.
Survey results
A recent survey conducted by the International National Trusts Organisation (INTO) and supported with funding from American Express, has found that the worldwide COVID-19 pandemic is straining the financial and programmatic sustainability of many of these stewards of our shared global heritage. At the same time, National Trusts have found new and creative ways to ensure that these special places are not another casualty of the global health and financial crises.
La Pedrera is in the care of the Catalunya La Pedrera Foundation. The world-famous Giant's Causeway in Northern Ireland, is owned by the National Trust in the United Kingdom. And the magnificent archaeology, history, culture, and nature of Petra in Jordan, is protected by the Petra National Trust. All three places, which routinely welcomed a million or more visitors each year in the past, have had to grapple with the impacts of the coronavirus pandemic. Yet all three have reopened, with some restrictions in place, for visitation.
Not all sites have been able to rebound so quickly, however.  And even those which have reopened sites to visitors face further challenges wrought by COVID-19.
Global family of National Trusts
There are now more than 80 National Trusts, modelled on the original, established 125 years ago.  These organisations and their more than 8 million members span the globe.  From Australia, Bermuda and China all the way through the alphabet to Trinidad and Tobago, Yangon City, and Zimbabwe. They work to ensure the conservation of everything from World Heritage Sites to places of immense significance to their local communities, often with little or no governmental support.
Beauty, identity, cultural heritage, nature, landscapes – these are the things that make us human. Our organisations stand for these things that bring joy to millions of people. The more people share these values, the more chance there is that protecting our heritage will become integral to our global society's future.
Impacts of COVID-19
The INTO survey, taken in July, found that many of these organisations have been significantly impacted by COVID-19.  More than half have seen a drop in their membership recruitment and retention, an important part of ongoing financial support.  And while a third receive less than 10% of their annual budget from site-related income, more than a quarter — or 27% — receive at least half of their income from such activities as admissions, rentals, and gifts shops. With visitation down or non-existent during this period, those groups are seeing serious erosion of their fiscal standing since the arrival of the coronavirus.
Of course, not everyone has experienced the same impacts. As Mohamed Faray Kargbo at the Sierra Leone Monuments and Relics Commission noted, his country has not had the same affects from the pandemic as others around the globe. Yet "the travel restrictions and lockdowns had a serious impact on our heritage sites and museums." The Monuments and Relics Commission expects that their situation will return to normal over time, but Kargbo adds, "Institutions like ours need to prepare for future pandemics and other global health disasters. We must adapt to the new normal and use online platforms to not only market our sites but also start making income from virtual tours."
Unfortunately, even the largest National Trusts are not immune from the financial impacts of the pandemic. The National Trust for Scotland took a series of emergency measures in May.  These included a significant cut to the workforce, some properties remaining closed until the economy recovers and launching a major fundraising appeal.   In late July, the National Trust of England, Wales and Northern Ireland announced upcoming job losses for some 1,200 full-time staff, or 13% of the current workforce.  Part-time staff will see reductions of 30%.  The Trust is making these changes as a result of an estimated £200 million loss in revenue this year alone. It has already drastically reduced spending, dipped into unrestricted reserves and accessed government furlough, loan, and grant schemes.
Resilience in the times of COVID-19
"We have been careful to ensure that our conservation work is protected with a limit on cuts to jobs that entail caring for houses and collections, gardens, nature and countryside," noted Justin Albert, National Trust Director for Wales and an INTO Trustee.  "We are confident that we have designed the programme in a way that will allow us to continue to deliver our core mission and ensure visitors to National Trust places continue to have the wonderful experiences they have come to expect from us."
There are several ways National Trusts are working to address this financial strain on annual budgets. Two-thirds have had to cut non-staff related activities such as programmes, marketing, and overhead expenses, 50% have turned to government grants or loans, while a quarter have relied on staff reductions or furloughs.
We're seeing lots of change across the sector as a result of the pandemic.  Some of this is for the better, like faster ways of working and focusing on what is important. But it has also led to a contraction of programmes and staffing. This is, of course, heart-breaking and we are doing what we can to support the INTO family through the crisis. The National Trusts of the world are incredibly resilient, and have, over so many years, responded bravely to the needs of the present.  At times like these we really need our National Trusts.  And we also, now more than ever, need them working together across the globe, learning from and helping one another.
Heritage tourism
The pandemic hit as interest in history, and the places where history happened, is growing. Before the coronavirus outbreak, visitation to heritage sites was on the rise for many INTO organisations. Two-thirds reported trends of increased visitation in the three years before the pandemic.  And slightly more than a quarter reported annual increases of more than 5% over the past three years. Heritage sites are clearly an attraction to the world's tourists.
Yet the long-term impact of COVID-19 is unclear for many of these organisations. One survey respondent's comment that that a bounce back to pre-pandemic levels "depends on commercial air access and quarantine requirements — we may not see any tourists for a long time" reflects the uncertainty faced around the globe in the months ahead.
In a country like the United States, where about 70% of museums and related organisations are history-focused, the sector exerts an enormous economic impact. In an ordinary year, more people go to museums than to major-league sports and theme parks combined. Time magazine recently reported that museums annually "contribute $50 billion to the U.S. economy, boast more than 726,000 jobs and generate $12 billion in tax revenue."
Katherine Malone-France, Chief Preservation Officer at the National Trust for Historic Preservation and INTO Trustee, said "Heritage sites across the country are tremendously important as community assets that support local economies but they also serve as important touchstones that help define our shared histories, foster truth-telling and reconciliation, and provide places where history and the arts thrive together."
New ways of working
INTO members are using a variety of tools and methods to connect their work to the public during the pandemic. The most popular include social media posts, opening up landscapes in different ways while keeping buildings closed, and online video tours. But the ways of connecting are a varied as the National Trusts themselves, from online classes for local schools to video chats and webinars with programme staff.
Heritage New Zealand used property staff stuck at home to call 'about to expire' members to offer free 3-month extensions and used the time to embed key messages about continued support.  Colleagues at FAI – Fondo Ambiente Italiano (The National Trust for Italy) launched their ItaliaMiManchi (Italy, I miss you) campaign with a focus on local tourism. They used social media to present a different property, at the same time every night. The Trustees of Reservations in Massachusetts put all their farm shops online so that people could order in advance and swing by the farms to pick up groceries.  The National Trust of South Australia streamed live concerts from (closed) historic places, whilst welcoming visitors to their parks and gardens.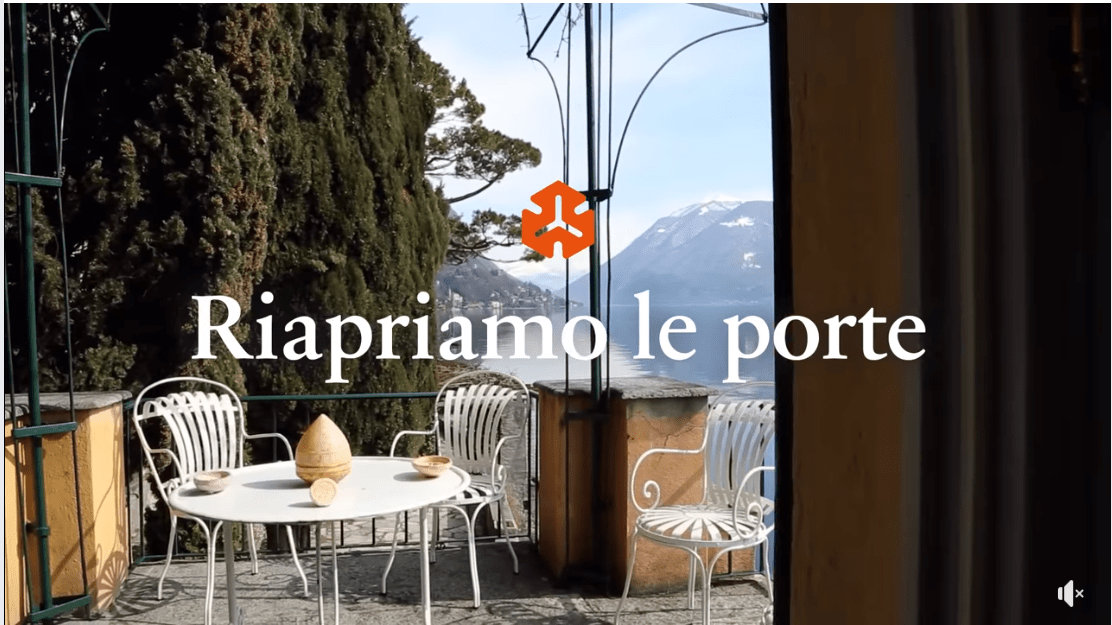 Focusing on what really matters
National Trusts have protected monuments in nature — both man-made and those crafted by other hands — through earlier pandemics, world and civil wars, changes in climate, and other threats. They have shared and celebrated stories from our past that have opened new understandings of history and also of who we are today.  Out of the experience stretching over 125 years, National Trusts have found that historic times such as we find ourselves in now generate interest in history. Alongside a real desire to protect those places that are part of our individual and collective memories, and create our community identity, the pandemic provides another opportunity to focus on what matters.
As Director-General of the National Trust in England, Wales and Northern Ireland, Hilary McGrady said when announcing the recent cuts to staff, programmes, and other expenditure due to the coronavirus, "The places and things the National Trust cares for are needed now more than ever, as the nation needs to recuperate and recover its spirit and wellbeing. Our focus will remain on the benefit we deliver to people, every day." That is a focus that National Trusts across the globe continue to bring to their work.
The author, David J. Brown, Principal at Bearden Brown LLC and a founding trustee of INTO, is undertaking this research on behalf of INTO with support from American Express.
Further reading
A summary of the results of the July 2020 survey into the impact of COVID-19 on the work of the INTO membership can be downloaded here.
The survey results capture the many ways the world's National Trusts have responded in the first few months of the pandemic to this unforeseen and tumultuous challenge. While there are certainly many more steps that INTO's member organisations will have to take in the coming months, especially in certain countries and parts of the world, this snapshot shows a worldwide movement that has moved quickly to ensure ongoing stewardship of the world's treasures while working hard to protect critical personnel and programmes.